Sun 29th Nov 2020

Mist 9°C
The beautiful village of Tattenhall in Cheshire
Tattenhall Local History:
April 2016
The month of April saw one Tattenhall family lose two of its three serving sons to the Great War. The two young men were Lieutenant Arthur Dell Brodbelt and his younger brother Lieutenant Guy Brodbelt.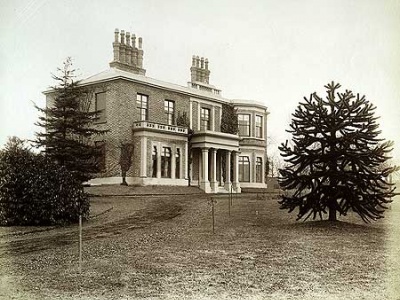 On the 1881 Census their newly married parents (Thomas and Lucy) were living at 'Fairfield House', on Burwardsley Road but by the 1891 Census, the entire family (originating from Liverpool) were living at the sumptuous 'Brook Hall' on Chester Road (see image to right). Both boys were born in Tattenhall and baptised at St Alban's Church.
Following the death of their father aged 44, the young family returned to Liverpool. Lucy Brodbelt, therefore, was not only a widow at a young age but by April 1918 she had also lost two of her three serving sons.
Lucy's youngest son, Guy, joined the 9th Battalion King's Liverpool Regiment. He went to France in April 1915 and was involved in engagements at Festubert (9 May) and Loos (25 September) as well as in a successful counter attack in the same region on 14 October. Lieutenant Guy Brodbelt is recorded as KIA (Killed in Action) on 14 April 1916 having been shot in the head by a German sniper while temporarily commanding a company. He was 28 years old.
Lucy Brodbelt's second youngest son, Arthur Dell Brodbelt, joined the Royal Garrison Artillery (Special Reserve). He volunteered as a Dispatch Rider but not being immediately called upon, he joined the Inns of Court Officers' Training Corp. He obtained his Commission in the Royal Garrison Artillery in September 1915, went to Malta in March 1916 and from there volunteered for France. He took part in the closing stages of the Flanders Offensive. During the German Offensive in March 1918, however, his battery was moved to support the Amiens Sector and he was mortally wounded on 18 April 1918. Lieutenant Arthur Dell Brodbelt was 32 years old.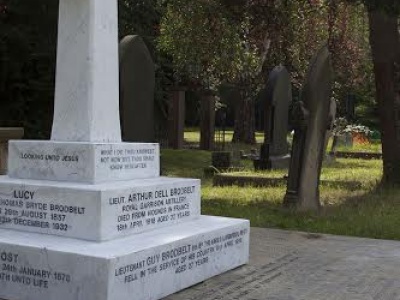 Neither boy is remembered on the Tattenhall War Memorial but during the Centenary Commemorations of the Great War held in Tattenhall in 2014, surviving members of the Brodbelt family commissioned a complete restoration of the Brodbelt family grave which is within St Alban's Churchyard (see image). To view the full story of the 'Brodbelt Boys' CLICK HERE to visit the Tattenhall History website.
Also to die during the month of April in The Great War was Sapper Thomas Wilding. Thomas and his wife (Eliabeth Jane) lived in 'Rosemary Row' and had 3 children.

'Sappers' were a Corps of the Royal Engineers that provided military engineering and other technical support to the British Armed Forces. Sapper Thomas Wilding is buried in Bralo village which shelters under Mount Parnassus near Delphi in the Southern Peloponnese, Greece. A large proportion of the burials in Bralo village were due to the influenza epidemic which swept Greece in 1918. Sapper Thomas Wilding is recorded as having 'died of sickness'.
Sapper Thomas Wilding's grandson (Rob Wilding), confirms that Sapper Thomas Wilding was, in the first instance, posted to France in the summer of 1915. He was, therefore, one of Kitchener's volunteer army; conscription not being introduced until 1916. His subsequent posting to Salonika (about a day's travel over the mountains from Bralo) was often regarded to be a suitable posting for soldiers who were returning to active service after convalescence. To view Sapper Thomas Wilding's full story CLICK HERE to visit the Tattenhall History website.