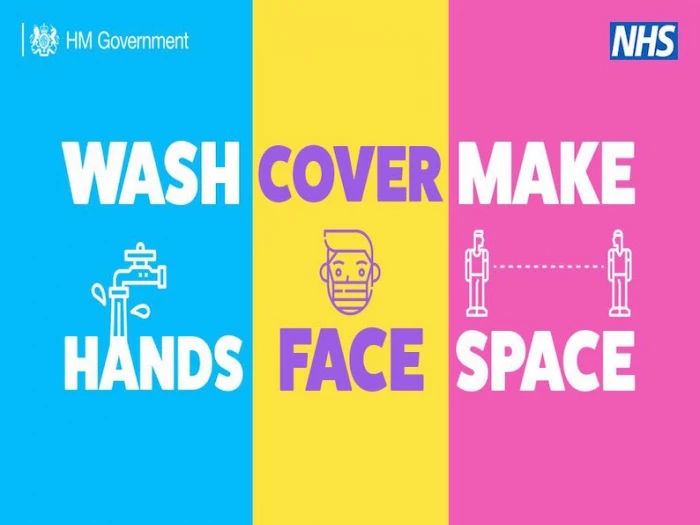 Bad News – Good News
We are inundated with news items about setbacks in our fight against Covid-19:
* More areas are having to return to lockdown
* Some schools are closing again
* Hospital admissions are increasing
* Track and Trace is struggling
Tattenhall and other rural Cheshire areas have done relatively well in keeping the virus at bay but the lockdown relaxations possibly created a false sense of security in many areas. In truth the relaxations actually increase risks and we should have actually been more careful than ever.
We know a lot more about what we have to do compared with six months ago. The good news is that what has to be done is down to us at the present stage of the virus. We can protect ourselves and make a difference. The simple messages below bring the message home.
KISS – Keep It Simple
Media advice proliferates and it can be very confusing, yet three simple measures can remove a high percentage of the risks of infection. The new Department of Health and Social Care advice embraces this "KISS" principle, in summary:
"Hands. Face. Space emphasises important elements of the guidance we want everybody to remember: wash your hands regularly, use a face covering when social distancing is not possible and try to keep your distance from those not in your household. Following these simple steps could make a significant difference in reducing the transmission of COVID-19 and help protect you and your friends, colleagues and family from the virus".
For more details from NHS England Click Here
IF IT IS TO BE, IT IS UP TO ME
The above ten simple two-letter words are very empowering. "Hands, Face, Space" actions are totally our own personal responsibility. These three things will give substantial protection against the virus. We do our bit and we will drastically reduce the risk of contracting the virus. Unfortunately there is no magic bullet at this moment. The NHS will look after us if we become ill but prevention measures are largely our responsibility. The good news is that we know these simple actions can have a big effect. It's up to us to develop good habits, sensible use of face coverings and constant awareness of social distancing.
KEEP CALM AND CARRY ON
The media seem to be on a mission to keep us in a constant state of worry (Tattenhall Online not guilty). The well-remembered WW2 mantra recognised the value of British stoicism, which has served us well. We know that we should try not to worry about things we can do nothing about but conversely devote our energy to those things under our own control.
Local businesses have made tremendous efforts to make our High Street covid-safe. It is in our own hands to play our part to help squeeze the life out of this deadly virus. "IF IT IS TO BE, IT IS UP TO ME"