Sat 28th Nov 2020

Patchy rain possible 7°C
The beautiful village of Tattenhall in Cheshire
Webteam:
September 2016
'Concern of the Week' relates to just how efficient we all are in in recycling our weekly food waste.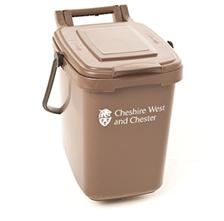 Almost 50% of the total amount of food thrown away in the UK comes from our own homes!
In Cheshire West and Cheshire alone, we actually throw away 20,000 tonnes of food waste annually.
Did you know — 6 tea bags recycled can generate sufficient green energy to boil a kettle!
Importantly, however, are you guilty of simply throwing the food waste out with the general household rubbish instead of placing it in your Food Waste Recyling Caddy.

It's cleaner, greener and much more efficient for everyone if we all recycle our food waste every week using our designated Caddy.
So, let's have a real push this autumn and ensure that we all place our food waste, including plate scrapings, tea bags, peelings, bread etc into the Brown Recyling Caddy.
Here in Tattenhall we are really lucky that this is collected weekly at our kerb — Kier Environmental Services Ltd. provide all our domestic waste collection services on behalf of Cheshire West and Chester Council. You can use any type of plastic bag to contain the food waste e.g. supermarket carrier bags, pedal bin liners, nappy bags or the bags in which your fruit and veg is packaged.
All the food waste that is collected gets recycled into energy to power our homes and provide fertiliser to help our farmers grow more crops.
To order a free Kitchen Caddy or Brown Food Recycling Bin visit the CWaC Website http://www.cheshirewestandchester.gov.uk/residents/waste-and-recycling/waste-hub/order-new-or-replacement-bin.aspxhttp://www./.11
popular recent storiesAlso in the news