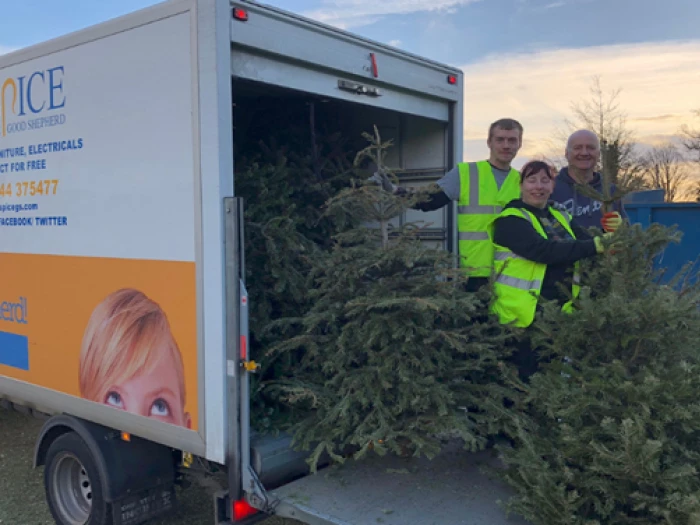 PLEASE NOTE THIS SERVICE HAS NOW CLOSED AND THE CHARITY IS IN TOUCH WITH THOSE WHO HAVE REGISTERED.
Tree Recycling by the Hospice of the Good Shepherd
Let our dedicated team of Hospice volunteers collect and recycle your real Christmas tree after the festive season in return for a donation to the Hospice! You'll be supporting your local Hospice and doing your bit for the environment! Please get in touch by calling 0124485181, emailing fundraising@hospicegs.com or CLICK HERE to register.
Your tree will be collected by our wonderful volunteers. As we're unable to specify a collection date or time, please ensure your tree is left in a clearly visible, accessible and unobstructed location, outside your property.
Our volunteers are unable, under any circumstance, to enter your property (e.g. house, garden, shed).
We're monitoring the developments related to COVID-19 and adhering to all regulations and guidelines from the World Health Organization and local public health authorities. The health and wellbeing of all our patients, hospice visitors, volunteers, supporters and staff is our top priority and we're taking all necessary precautions to keep our services open for the people who need us most.
All collection services will be managed in line with the most up to date guidelines and with appropriate equipment for both our volunteers and our community. We will not ask you to be present when the collection takes place and will ensure the collections are managed in a socially distanced manner.
Do you also have access to a van or truck and can help us with our tree collection?