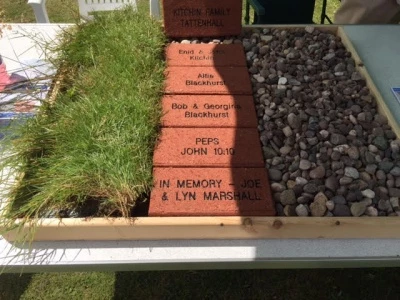 The initiative to create a 'People's Path' within the Churchyard will benefit us all. So many of us already use the current pathways on a daily basis.
The 'Buy a Brick' project aims to create a brick-edged community pathway 'for all' and will extend from the Clayton Gate entrance on Chester Road to the new Community Room. It is also intended that the 'People's Path' will be floodlit during the evenings.
The ownership of this brick-edged pathway lies with the community since individuals and businesses alike are able to purchase a brick and decide upon the individual wording. This initiative has already captured attention from outside the immediate Church congregation with 80% of the bricks sold having no direct association with the Church.
At a personal level, smaller individual bricks have been purchased bearing a family name, a wedding date, a child's christening date, the names of loved ones (past and present) and some even bear the name of a much loved pet! At a corporate level, several companies have purchased a larger individual brick to represent their company. Orders have rolled in from far and wide – one of the first orders was from Canada and another from Australia. How wide will the 'Tattenhall Online' net stretch?
The floodlighting of the War Horse, the War Memorial, the Flag Pole and the Church Tower have all been so well received by our community. A floodlit 'People's Path' is another practical initiative which contributes to making Tattenhall a very special place in which to live.
So, we are all invited to subscribe to the purchase of a brick (small or large), thus leaving a lasting, practical legacy which will reflect not only the strength of our community but the pride in which we hold our village.
The closing date for orders is likely to be the end of December – you might want to purchase a brick as a thoughtful, lasting Christmas gift. It is then hoped that the pathway will be completed in the spring of 2016.
For an order form please email – admin@tattenhallchurch.co.uk
or, leaflets are available for completion from St Alban's Church, The Rookery Surgery, Alison's or at the Post Office.