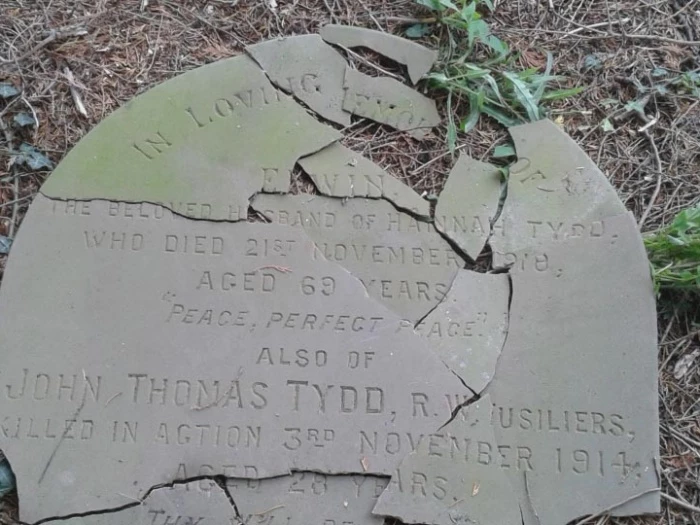 With rain beating down on the Church roof, Father Lameck conducted his second service of Remembrance on 8 November; the latter being at the Church of St John The Divine in Burwardsley.
What was of particular significance this year was that a booklet on Burwardsley men who had both served and died in the conflicts of The Great War and WWII had been produced. The catalyst for this research had been a number of broken shards from a headstone, neatly piled in the SE corner of the Churchyard. On piecing these sandstone fragments back together, it revealed that this was, in fact, the headstone of Private John Thomas Tydd of the Royal Welsh Fusiliers who had died in November 1914, just 3 months into The Great War.
There is no War Memorial in Burwardsley and there is no Roll of Honour within the Church. However, at least 11 men from this tiny hamlet on the Sandstone Ridge died in the two World Wars and one family, in particular, lost three sons to the Great War.
Friends of Burwardsley are now committed to:
* Erecting a permanent 'Roll of Honour' to be housed within the Church
* Restoring the headstones of Private John Thomas Tydd and Private Herbert Hodskinson.
This will require community support in a variety of ways, not least in terms of fund raising.
If you can offer any support, however small, then please contact our principal fundraiser 'Jeanne Parsons' on 01829 771227.
The booklet 'Burwardsley Remembers' will be available within the village and also appears on the Tattenhall and District Local History Website, CLICK HERE to view or download the booklet.