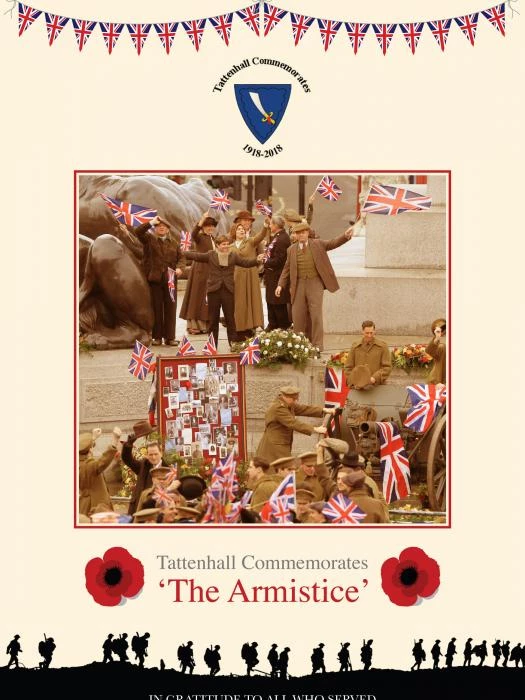 Many of you will know that the weekend of 11 November 2018 marks the Centenary Anniversary of the end of The Great War
Many of you will also remember that back in 2014, we held a commemorative weekend event 'Tattenhall Remembers' which marked the Centenary Anniversary of the start of that conflict. This is archived on the Tattenhall Local History Website (CLICK HERE).
As you would expect, the Armistice Committee has been busy planning a 'Programme of Events', which is now coming together.
Without spoiling and pre-empting all of the celebrations, commemorations and legacy projects, we can confirm some of what is planned:
The weekend will comprise a mixture of celebrations (marking the end of the fighting), but it is right and proper that we are reflective in line with Remembrance, and that there are some long-term legacy projects in place which add to the unique role that Tattenhall played in that period of 1914-1918.
There will be 'partying' and 'singing' and 'concerts', of that we are sure. The 'partying' and the 'music' will have a nostalgic theme – watch this space – and, our beloved TADs will be involved (of course)!
We also intend 'to dress' The Barbour Institute – this will set the context and don't forget that we have requested that everyone create a poppy (see previous story CLICK HERE).
Some projects have already been publicised on Tattenhall Online – Thom Morton, for example, is funding the installation of two wooden benches to be located at the War Memorial as a point of permanent reflection and Redrow Homes has also provided Tattenhall Local History with £775 from their Community Funds to create a long-term heritage trail pamphlet (some of you bumped into individuals trialing that just this week)!
The Parish Council is also funding an historical interpretation panel to be installed near to the War Memorial and our War Horse Sculpture 'George', which was so well received back in 2014, will be added to – again watch this space!
Some of our projects are obviously in line with national initiatives – The Commonwealth War Graves Commission (CWGC) has requested that everyone 'gets on side' and all the necessary paperwork has been completed and approved to include a CWGC initiative; Bells will be rung throughout the land and be assured that the Tattenhall Bell-Ringers are on standby; and Beacons are to be lit nationwide and, yes, local arrangements are in place too.
The 'Burwardsley Lads' should not be overlooked and Tattenhall Local History has not only researched those lads who died from this tiny hamlet, but has already held two nostalgic photographic exhibitions to raise the necessary funding for the installation of a 'Roll of Honour' in the Church of St John the Divine; this will be unveiled as part of the commemorations and provides a lasting legacy at Burwardsley too.
So, a flavour of what's in store but without giving all the details away!!
Keep watching Tattenhall Online for updates and for further information.