Sun 29th Nov 2020

Mist 9°C
The beautiful village of Tattenhall in Cheshire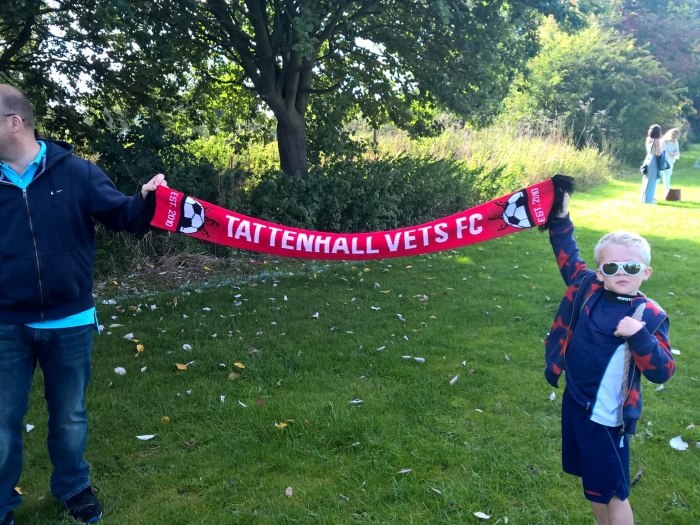 Victor French:
November 2015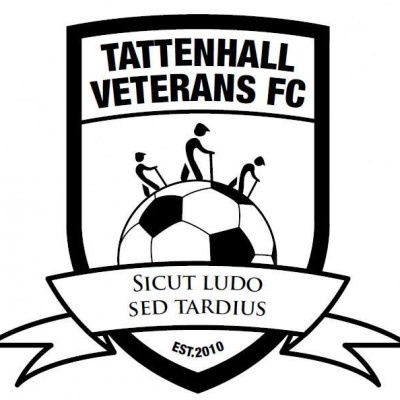 LADIES UNDERWEAR FAILS TO DISTRACT VETS!
It proved to be Black Saturday for Ashton Vets FC as they encountered an in-form Tattenhall Vets who came away with a bargain, 7 goals for the price of 3, at a rain-soaked Christleton on Saturday afternoon, moving them up to second in the CWFL Tarvin Precision Chester and District Veterans' League. But, whilst the performance of the wrinkly Flaccaites warranted the full attention of those of us watching, it was the pitch side absence of mercurial manager Stu Taylor that provoked almost as much comment. An irritable Taylor later refuted reports that he had been seen in the pampas grass haven of Bunbury, watching their table topping Vets team as a guest of the directors. His explanation of "having a pre-booked male-grooming appointment", will certainly raise an eyebrow or two with the Tattenhall faithful.
Tattenhall, fielding a strong line-up and bolstered by an experienced bench and the presence in support on the side-lines of Vets' legend Wayne Tomlinson, started brightly, but quickly found themselves behind when the defence failed to clear a speculative punt into the box; the ball being poked home amidst a flurry of swinging boots. Uncowed, Tattenhall continued to press for an equaliser and were justly awarded a penalty after the clumsy intervention of hapless Ashton stopper, Big Frank, who committed the first of his three 18 yard box fouls. Village high-temperature yoga specialist, Tim Whitehill, stepped up, but couldn't keep his cool and scuffed the effort to allow an easy clearance. The supremely bendy engineer's woes continued when, shortly after, a clash of heads led to him being sidelined. He proved not to be the only casualty of the afternoon. With will-o'-the-wisp Tattenhall striker Matt O'Sullivan constantly being caught in the Ashton offside trap, the nearside linesman became the victim of a nasty repetitive strain injury to his right arm.
Throughout, Tattenhall kept the upper hand and class, fitness and commitment began to pay dividends. Chris Woodburn, wearing a fetching line in ladies' hosiery, slotted a second penalty, courtesy of Big Frank, to equalise, before goals from a restored Whitehill and Pete Powell saw the antiquated Bolesworthians into half time with a 3 — 1 lead.
After the break, the customary Ben Erwin goal and one from Matt O'Sullivan, who took advantage of the linesman's inability to flag him offside due to a newly acquired frozen shoulder, saw the Tattenhall dominance continue. Ashton briefly threatened with two quick goals after Tattenhall shuffled their pack with the introduction of Dave Gunning, Pon and Andy Clelland, but Big Frank settled nerves with his third undexterous intervention of the game and warm-legged Woodburn tucked away his second spot-kick. The cherry on top of the icing on the cake was provided by the prolific Andy Clelland, who belted a one-on-one past the keeper.
That Taylor missed this astonishing return to form was all the more surprising following his typically short-tempered mid-week press call. He dealt head-on with the recent rumours of substance abuse at the club and indicated that after a zero-tolerance internal investigation and a sweep of the dressing room, two packets of Werther's Originals and one tube of Seven Seas Jointcare supplement were found, together with some unidentified small blue lozenge-shaped tablets that Taylor has now sent off to WADA. He also commented that he expected his team talks to be more effective following the introduction of a portable hearing loop into the dressing room, although he accepted that there was nothing he could do about the short-term memory issues of some of the older players.
He need not have worried. This was a victory that will live long in the memory of those who were able to attend, whatever their age. The Vet' season continues in the New Year against The Plough Vets on 9th January.
Victor French (Impartial Investigative Sports Reporter).