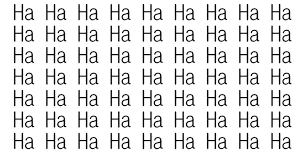 It's snow joke!
In an attempt to de-sensitize you for the terrible jokes you will have in your Christmas crackers, here are some of the worst – sorry best jokes the Tattenhall Webteam could come up with.
What does Santa suffer from if he gets stuck in a chimney?
Claustrophobia!
What do they sing at a snowman's birthday party?
Freeze a jolly good fellow
Why does Santa have three gardens?
So he can 'ho ho ho'!
What happened to the man who stole an Advent Calendar?
He got 25 days!
What do you get if you cross Santa with a duck?
A Christmas Quacker!
Who is Santa's favorite singer?
Elf-is Presley!
How does Good King Wenceslas like his pizzas?
One that's deep pan, crisp and even!
What do you get if you eat Christmas decorations?
Tinsilitis!
What's the most popular Christmas wine?
'I don't like Brussels sprouts!'
Actually, I quite like that last one!!!