Fri 3rd Jul 2020

Moderate rain at times 15°C
The beautiful village of Tattenhall in Cheshire
CWaC:
February 2020
Cheshire West and Chester Council will start preparation work for its resurfacing programme this month to get ready for when warmer weather arrives and some Tattenhall roads are included in the programme.
The Council's Highways Department will be treating some road surfaces with a micro asphalt surface treatment in the spring.
Micro asphalt surface treatment is a road maintenance process which involves laying a thin layer over the top of the existing road to seal the surface and restore grip, thereby extending the active lifespan of the road.
Preparation work this month will include cutting back overhanging trees, plus clearing debris and dirt at the edges of the carriageway.
Micro asphalt cures quickly and can usually be driven on less than an hour after application. Its ability to reshape and re-profile existing surfaces ensures minor defects, such as potholes and cracks, are sealed to stop water getting in to cause further damage.
On average, micro asphalt extends the 'life expectancy' of a road by five to seven years. It as has a much-reduced environmental impact compared to standard resurfacing techniques as it is a non-polluting, cold-applied, zero-emissions material.
CLICK HERE for full details of the Council's micro asphalt resurfacing programme for 2020.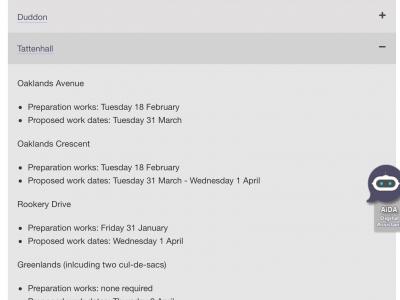 Several roads in Tattenhall are included in the Programme; for details see the image from the Council's website.
CLICK ON IMAGE TO ENLARGE
popular recent storiesAlso in the news